KSB Linear
The KSB L series are Kosme's next-generation linear stretch blow moulders. Kosme has an impressive track record in the production of many different container and bottle types, and this expertise has been channeled into the design of the linear PET blow-moulders. Each and every detail enhances the reliability, ease of use and flexibility of these machines which offer an optimal price performance ratio as a "standard feature". The KSB L series produces containers in the 0.5 – 30.0 litres range and a speed range up to 3.600bph. The machines can handle a very large variety of preforms.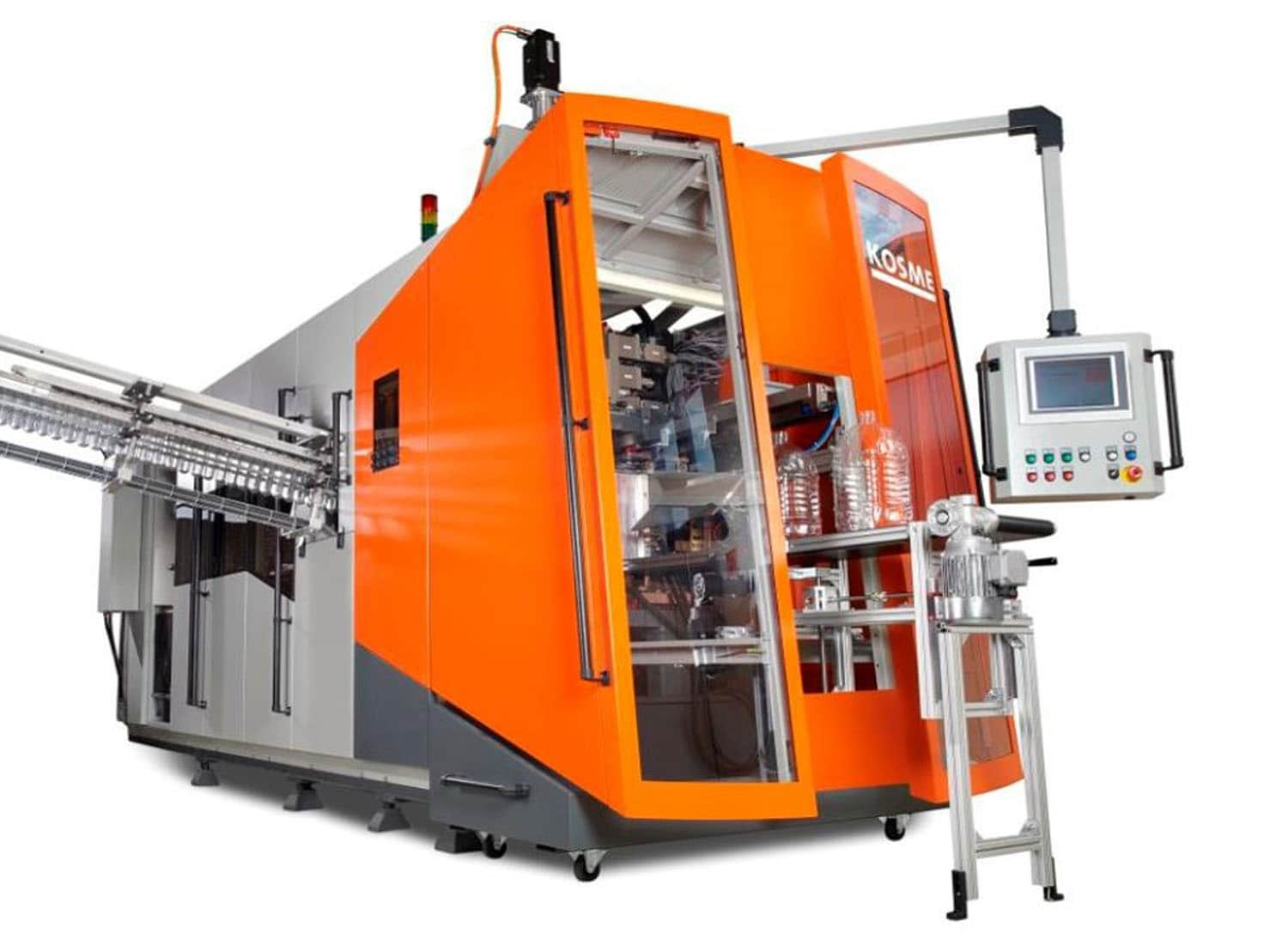 KSB Linear presentation
2.95 MB, .pdf
System advantages:
- Top quality bottles
- Energy efficient
- Precise bottle production
- Quick semiautomatic mould change
- Air recycling, intermediate blowing
- Optionally: ceramic reflectors
- Optionally: preferential heating module for oval bottles
- User-friendly operation
The KSB L produces top-quality PET bottles and keeps energy and air consumption to a minimum. The modular oven is one of the energy-saving features. The cooling subsystem and preform settings on the oven meet standards which are second to none. The optional air recycling and intermediate blowing system further enhances energy efficiency. The air for the entire low-pressure supply on the KSB L series is recovered from the high-pressure blowing process. Preform stretching is done with a servo controlled spindle motor system. The complete pneumatic system and the pre-blowing step during the preform stretching operation run on recycled high-pressure air. With air recycling, a lower-capacity compressor is sufficient, and that reduces initial investment and on-going operating costs. The preforms and finished bottles remain on the same level throughout the production process. Pre-form heating, blow-moulding and bottle discharge take place without product redirection.
Kosme moulds produce perfect containers and bottles to your exact specifications. With the semi-automatic mould quick change system, you do not need any tools for format changeover. Quick changeover is a major advantage of the KSB L, and it is one of the reasons why the series is so successful. Short production runs can be processed quickly and efficiently on these machines. The simple motion sequence causes minimal wear and reduces maintenance costs.
Technology for all: Some highlights from the Kosme portfolio